Millennial Spotlight, Markeye Bonner
Markeye Bonner
Dallas, Texas
What inspires you?
Life, experiences, and love
Social Media Handles:
Facebook: https://www.facebook.com/mikellsflorist.mb/
Instagram: https://www.instagram.com/mikellsflorist/
Yelp: https://www.yelp.com/biz/mikells-florist- dallas
Website: www.mikellsflorist.net
Facebook: https://www.facebook.com/L2Lemonade/
Your favorite song currently and the artist:
This Is What It Looks Like by PJ
 Currently reading: 
Their Eyes Were Watching God by Zora Neale Hurston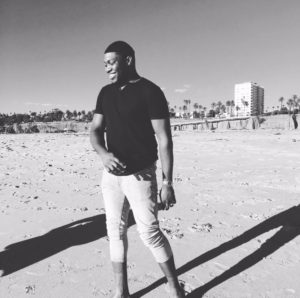 Favorite food spot in your city:
Chelsea's Corner
Sweet Tea or Lemonade (it's a Southern thing):
Arnold Palmer
Describe yourself in one word:
Particular
Favorite place to visit/vacation:
Costa Rica
Fashion, art, and interior decorating have always been serious hobbies of mine and it gives me that creative mindset that every florist needs in order to provide new, fresh, and quality arrangements to the customers.
Background information:
Where are you from? 
I'm originally from Albany, Georgia. I 've been in Dallas, TX since July 2016, been loving it ever since!
What do you do? How did this "role" come about? How are you best known by others?
I'm a florist with an online business serving the Dallas metropolitan area. I'm known for
my experience, strategic planning, and attention to detail. I decided to make this a career after
being introduced by my aunt Andrea, who owns "Flowers by Andrea" in Albany, Georgia.
Did you attend college and/or have formal training in your respective field or industry? If so, please elaborate on the year you graduated and from what institution.
My former training comes from working with my aunt Andrea White, who has a floral business named, Flowers by Andrea. My aunt's shop has been thriving for 33 years and counting, and I was given the chance to work with her at the age of sixteen. The floral industry has been my passion ever since and that's how the beginning of my career began.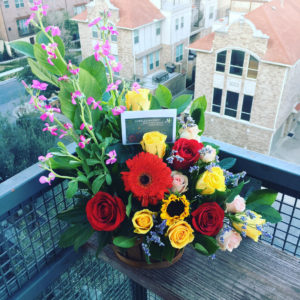 What factors of your upbringing influenced your career goals? 
As previously discussed, my aunt definitely played a key role in my career choice but other interest of mine also helped me realize my career path. I was always that inquisitive kid who critiqued everything and questioned how creative gestures could change the overall image. Fashion, art, and interior decorating have always been serious hobbies of mine and it gives me that creative mindset that every florist needs in order to provide new, fresh, and quality arrangements to the customers.
How long have you been in this career? What did you do previously?
I've been in the floral business since age 16, but I started Mikells Florist in 2010. I was previously in Retail, hospitality, and sales.
What long-term goals do you have? What steps are you currently taking in this direction?
My long-term goal is to expand my company worldwide. I intend for Mikells Florist to have several shops in popular locations all over the world…I am currently gaining all the knowledge I need to continue this success. I study what's in style, different colors, and textures so that my creativity never stops. I believe if I continue providing my greatest, be humble, listen and stay active my path will reveal itself. Right now, I'm an online business. Within a year I plan to open a commercial location. Earn triple the profit. With more revenue, marketing, and quality service I will be able to open several locations, getting me closer to my long-term goal.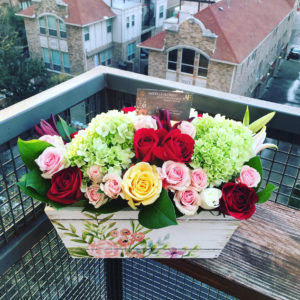 Tell us about your social media presence. Do you use it in your line of work? Why or why not, is it important in your day-to-day responsibilities, platform or career?
Yes, social media is imperative when you run a business in a large city. It can be helpful when a customer needs to
order throughout the day, after business hours, or if you want to keep social media friendly customers updated with your latest product. All of my social media platforms are current, Instagram is so business-friendly. It's very convenient with messaging; exploring other business pages to network or providing services. It's important that I am always alert with all platforms. Customers could ask any question at any time. Consistency is a must because everything is so fast these days. Shortly put, "Time is money".
Which public figures, role models and or historical figure shaped your goals as a child and in adulthood? Any that embodies your personal values?
My mother is my hero. I have watched my mom work so hard to make sure I had what I needed as well as what I wanted. Being around when tough decisions had to be made…made me cherish the love and commitment a mom has for her child. I carried that virtue with me. My drive comes from my mom's dedication. You never fully appreciate things until you're older, but I understand how great a bond is between a mother and son.
What does it mean to you to be a millennial? How do you share that with others in your life, those you meet and with your peers?
I feel like the word millennial popped up out of nowhere and people were like, "huh", because for many years no one that I knew used it to categorize me nor the people my age. A millennial is the younger generation who shares love, knowledge, and experiences with others to help create a better community and understanding worldwide. I'm
big on keeping my peers and everyone I meet updated on intriguing things I've discovered or learned in the past. Through this approach, we can build a better life and opportunities for the millennials to come.
Learn More about Mikells Florist, HERE.
Follow Millennials to Watch on IG HERE.