Meet the Millennial, Eduardo Chavez
Meet the Millennial:
Eduardo Chavez
actor/filmmaker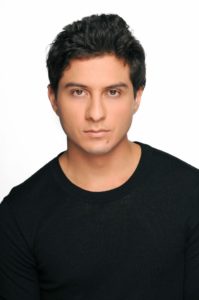 Eduardo Chavez is the grandson of Mexican-American and Latino civil rights activist Cesar Chavez who inspired non-violent change for farm and labor workers through his own actions. Cesar Chavez served his community for 31 years by bringing awareness to issues such as fair pay, equal treatment and freedom of speech. Eduardo Chavez is currently promoting "Hailing Cesar," a coming of age story of himself as he discovers and shares the story of his grandfather, Cesar Chavez. 
Social Media Handles:
I'm only on Instagram at @eduardomchavez1
Currently reading: 
The Bleacher Report
Favorite food spot in your city:
There's a new burger place "Hiho Cheeseburger."
If you attended University/College, where did you graduate?
Loyola Marymount University
Describe yourself in one word:
Versatile
"The main goal is to inspire people to pursue their own journeys and at the very least- to educate the world on the life of my grandfather."
How did you get started with this campaign/project?
In 2016, while taking an acting class, my friend discovered that my grandfather was the Cesar Chavez. We developed this idea for me to go on this journey of self-discovery to learn about my grandfather and his life's work. We ran a crowdfunding campaign to begin filming for a month. It took us about a year and a half to complete the entire film.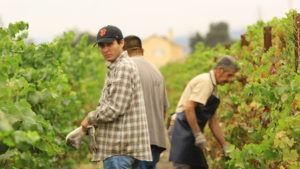 How has the audience responded to the film?
Audience reaction has been great. I wasn't sure what to expect. The response has been overwhelming, it's been considered a film that young people or people of all ages will be inspired by. The goal for the film is to get it in front of as many people as possible. The main goal is to inspire people to pursue their own journeys and at the very least- to educate the world on the life of my father.
What else can we expect from you and your team in the future? 
At the moment, we just finished our first film. It premiered at its first film festival April 8th. Our production company has a few more projects in the future.
How has your family been involved in the production of the film?         
 Everyone in my family has been very supportive and invested. I've had so much support along the way from my family. My father could be considered as a leading role.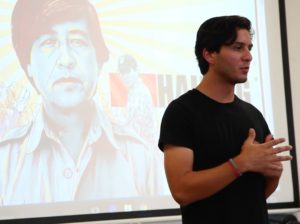 What have you learned during this process about your grandfather?
My grandfather was just a normal person who saw that there was something wrong in the world and dedicated his life to fixing it. He was selfless and put a community of people before himself.
What is one message that you hope that the film viewers walk away with?
There are two main goals that I hope others walk away from with this film. The first is that it is our job as humans that when we see something wrong, whether it's a group of people or an individual, it's our job to speak up about it. And the second is the hope that we are all inspired to pursue our passions and our dreams with a relentless pursuit to see our dreams come true.  Whether it's a social movement or a personal dream, we have the ability to see it happen.
What does it mean to you to be a millennial? How do you share that with others in your life, those you meet and with your peers?
To be a millennial means to be forward thinking, think outside of the box, and to not always take the standard route.
Learn more about Eduardo and Hailing Caesar, HERE.
Follow Millennials to Watch on IG HERE.