Millennial Spotlight, Raven Turner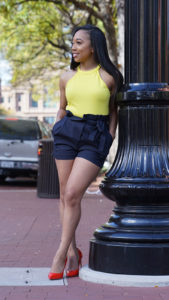 Raven Turner
Dallas, Texas
What inspires you?
Knowing that I have the potential to be great and there is greatness inside of me inspires me to pursue greater heights and ambitions. I work at a group home with individuals who are disabled and can't do for themselves. Knowing that I have my health and strength and the opportunities others readily don't have inspires me to work hard and always be thankful. The third thing that inspires me is my parents and others who have been instrumental in my life helping me get to where I am today. I can't quit on myself and I can't quit on them.
Social Media Handles:
IG: Ravens_ambition YouTube: Raven Turner
Website: www.ravensambition.com Twitter: Ravens_ambition Facebook: Rambition1
Your favorite song currently and the artist:
Treat Her Like A Lady- Temptations
Currently reading:
Invaluable Laws of Growth
Favorite food spot in your city:
Black Walnut
Sweet Tea or Lemonade (it's a Southern thing):
Lemonade (Pink) lol
Describe yourself in one word:
Bold
If you attended University/College, where did you graduate:
Undergrad: Prairie View A&M University  and Graduate School- Texas Woman's 
University -Masters Executive MBA
Favorite place to visit/vacation:
Florida beaches
To me being a millennial means being ambitious. Having an innate ability to vigorously pursue your aspirations and having that killer instinct to attack every opportunity.
Background information:
Where are you from? 
I was born in Dallas TX, however, I was raised in Rowlett TX.
What do you do? How did this "role" come about? How and why are you best known by others?
I have always been able to speak and empower friends, teammates, etc. My Speaking career came about unexpectedly and I am just busting the door wide open by utilizing my gift and helping others realize the power they can possess by tapping into theirs. Life is what you make it, only what you put in is what you're going to get out. I am best known by others by speaking boldly and powerfully.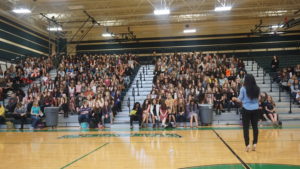 Did you attend college and/or have formal training in your respective field or industry? If so, please elaborate on the year you graduated and from what institution.
I attended undergraduate school at Prairie View A&M University and graduated with my Bachelors of Science degree in Health Administration in 2014. During my tenure there I was also a collegiate athlete on the Woman's Track & Field Team. I recently graduated from Texas Woman's University with my Executive MBA (December 2017)  and my Masters in business is definitely adding immense value to me being an entrepreneur and building my business.
What factors of your upbringing influenced your career goals? Ex. If you're a teacher, what made you go into that field?
My passion is sports and I always assumed I would have a career in it. However, being turned down and rejected from every sports job, internship or school I applied to unexpectedly pushed me into my purpose. Amid those adverse situations, God was redirecting me and revealed to me my gift which is 'speaking" I love speaking and empowering others with practical wisdom and knowledge that will help propel them further.
How long have you been in this career? What did you do previously?
I have been pursuing my speaking career for almost a year and building my business. I currently work a night job as a healthcare group home attendant. I plan on being a full-time entrepreneur next year around this time in 2018 (December 2018).
What long-term goals do you have? What steps are you currently taking in this direction?
My long-term goals are to be a full-time speaker and business owner. I plan to travel the world empowering others helping them tap into their innate ability so they can reach their full potential. The steps I'm taking are being engaged in consistent action, executing on my goals, connecting with the right people and right environments and growing personally every day.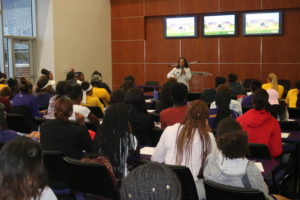 Tell us about your social media presence. Do you use it in your line of work? Why or why not, is it important in your day-to-day responsibilities, platform or career?
Yes, I definitely use social media in my line of work on a daily basis. Social media is extremely instrumental in my business because it allows me to get more eyes on what I'm doing as a speaker. When I post I post with a purpose and as a result, I am able to get more speaking engagements, a significant amount of social media repost, and an increase in followers amongst other things.
Which public figures, role models and or historical figure shaped your goals as a child and in adulthood? Any that embodies your personal values?
I don't really look up to anyone but if I had to name a few people who have been instrumental and have helped shaped my life in any way Kelia Bazile would definitely be one of those people. She is my best friends mother and my second mom. She is the VP of Carrabba's Italian Grill and has achieved milestones among many other prestigious things. Talk about resilient, ambitious, and determined that is her. Kobe Bryant and Russell Westbrook, I love their killer instinct and attitude. They are always attacking and trying to destroy their opponent. I look to do the same thing in every area of my life.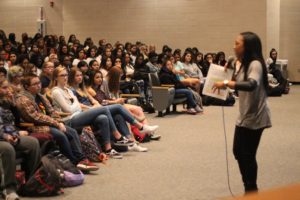 What does it mean to you to be a millennial? How do you share that with others in your life, those you meet and with your peers?
To me being a millennial means being ambitious. Having an innate ability to vigorously pursue your aspirations and having that killer instinct to attack every opportunity.  I share this with other millennials, peers, and anyone I come in contact with through my speaking engagements offering a new voice and unique approach. Reminding them of the power they posse and how, and why they need to tap into it.
Learn More about Raven HERE.
Follow Millennials to Watch on IG HERE.